THE WEDDING PHOTOGRAPHY EXPERIENCE
---

Overcoming all obstacles to get the right photograph at the right time. Chasing the light. Putting my couples' priorities first. Knowing the stories of the men and women I photograph are most important. Not hesitating to lay on the ground in a new suit to get the shot. More smiles and laughter...less drama. It's about capturing a huge milestone day in the lives of two people and doing it with respect, authenticity, and in a creative way. Placing significance on documenting emotions.
Your life is full of humorous, lovely, and even magical moments. They deserve to be documented and celebrated.

It's about celebrating life's moments and YOUR family legacy.
---
"Can't say enough about how happy I was to work with Randall for my wedding! Extremely friendly and personable, so easy-going, and happy to partner with you on your vision for the day. The photos came out beautiful and we were thrilled with the moments he captured. I had originally worked with him years before as a bridesmaid at a friend's wedding. That experience was so nice that I'd recommended him to some other friends over the years. So when it was finally my turn for the big day there was no way I wasn't going to use him for myself!" - Caitlyn and Kevin
---
The Process and What You Can Expect
Welcome and thank you

for making it this far. Wedding planning can be stressful and overwhelming so let's walk through how easy I make this process for you, so you can book your photographer and what you can expect from Randall Garnick Photography.






ONE. Let's Connect

After you've taken a few minutes looking around my portfolio, learning about my style and my personality please reach out to set up a no-obligation initial consultation. This process is all about YOU and I look forward to hearing about your day and what's most important to you.

TWO. Let's Do This

After learning more about what's most important to you I'll put all the details into a contract for you to review. Everything is spelled out simply and completely transparently, no surprises here. Sign the contract digitally and pay the retainer with your credit card, all very easy and then you're officially booked!






THREE. Engagement Photos

This is one of my favorite parts of the whole process. We'll brainstorm different location options, find the best available date and really have some fun with it! This gives you the opportunity to get comfortable in front of the camera and of course, we'll create a lot of beautiful photos.

FOUR. The Timeline

Everyone loves to have a great plan in place because that means less stress! I'll work with you to craft the best timeline for your day and then we'll fine-tune everything so you're happy with how everything looks.






FIVE. Final Check-In

A week before your wedding day we'll have a quick call to go over the schedule and make sure we're still on the same page with everything.

SIX. The Big Day

This is what we've been planning for! You get to relax, be in the moment and let your team bust their butts for you to capture the laughter, the joy, the crazy dance floor moves - all the memories. Enjoy it!






SEVEN. Previews

Hopefully, you'll still be adventuring on a mountaintop or basking on a beach somewhere in honeymoon bliss. About a week after the wedding I'll start sharing some previews.

EIGHT. The Gallery Reveal

Four to five weeks after the wedding is when I'll have your complete collection of images ready to view. I'll share your personal gallery link and password and you can enjoy and relive all the amazing moments from your day.






NINE. Custom Heirloom Album

This is truly the culmination of all our hard work together, your months and months of planning, and my photography will live in a beautiful custom handmade album crafted right here in the United States.
---
---
WEDDING PHOTOGRAPHY EQUIPMENT
I have become a huge proponent of the saying 'hope for the best but prepare for the worst'. Wedding photography doesn't have do-overs and living and working in New England we all know the weather, lighting conditions and so many other factors can change at any moment.
Twelve years of photographing weddings has provided me with a lot of insider knowledge and tips and tricks to make sure I can do my job at the highest level every weekend. Weddings are a huge investment of time, money, and energy and I believe it's my job as a professional wedding photographer to show up and be 100% for each and every client. Does having the latest and greatest camera ensure I am going to get the best photos? Absolutely not. It's so much more than gear. Certainly part of it has to do with the 13 years I've been in the wedding industry, learning and educating myself each year. Taking workshops. Traveling to trade shows. Trying new things. Being creative. Making mistakes. Trying again. Not to mention the 8 years prior to that at Boston College and then at the New England School of Photography and at MassArt learning the foundations of photography and the history of photography.
I've always said it's a balance of technical and creative that makes photography great. That's a pretty long-winded way of saying I'm not staying up late at night reading photography tech blogs but please don't doubt for a second that I don't know my own gear inside and out. Each year I say I'm going to try and lighten the load this season, and then I learn something new I want to try and buy something and add it to my 'bag'. Actually, it's grown to a few bags. This gear bag image below is my idea of traveling 'light' but I actually couldn't fit everything, like light stands, the tripod I was using to take the photo, the lens I was using to take the photo, and probably a few other things I consider essential to make every wedding a success. But if you still have any equipment or technical questions don't hesitate to ask when we chat.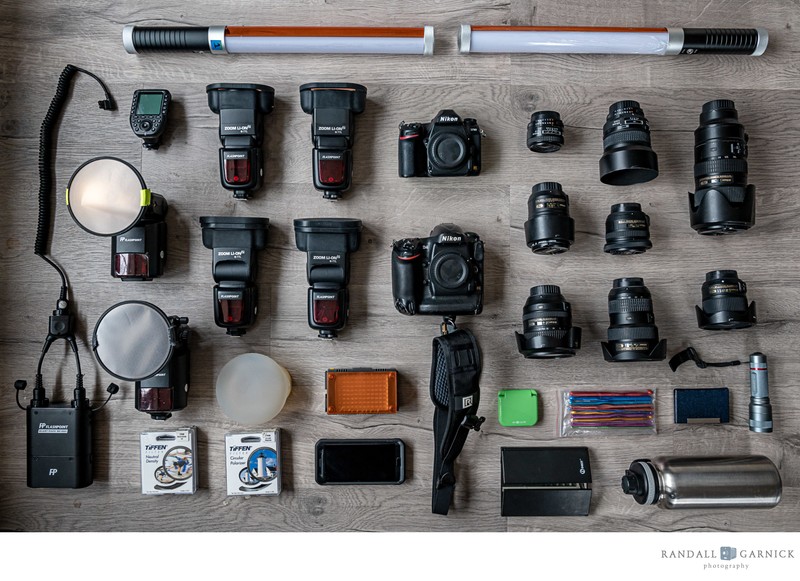 ---
SHOWROOM
**COVID-UPDATE** Obviously at this current time I am not able to host you in my home showroom but would love to meet face to face via Zoom, Google Meet, Skype, or your preferred video software.
I would be happy to welcome you into my home showroom so you can see the full range of the experience I offer for your wedding. Canvas gallery wraps, large custom printed and framed photographs, metal prints, and of course a wide array of heirloom custom albums. I live west of Boston, in Ashland, less than 10 minutes from the MA Pike. Meetings are by appointment only.