THE WEDDING PHOTOGRAPHY EXPERIENCE
---
AUTHENTIC. VIBRANT. JOYFUL.
Overcoming all obstacles to get the right photograph at the right time. Chasing the light. Putting my couples' priorities first. Knowing the stories of the men and women I photograph are most important. Not hesitating to lay on the ground in a new suit to get the shot. More smiles and laughter...less drama. It's about capturing a huge milestone day in the lives of two people and doing it with respect, authenticity and in a creative way. Placing significance on documenting emotions.

It's about legacy, your family legacy.

---
WEDDING PHOTOGRAPHY EQUIPMENT
I have become a huge proponent of the saying 'hope for the best, but prepare for the worst'. Wedding photography doesn't have do-overs and living and working in New England we all know the weather, lighting conditions and so many other factors can change at any moment. Ten years of photographing weddings has provided me with a lot of insider knowledge and tips and tricks to make sure I can do my job at the highest level every weekend. Weddings are a huge investment of time, money and energy and I believe it's my job as a professional wedding photographer to show up and be 100% for each and every client. Does having the latest and greatest camera ensure I am going to get the best photos? Absolutely not. It's so much more than gear. Certainly part of it has to do with the 13 years I've been in the wedding industry, learning and educating myself each year. Taking workshops. Traveling to trade-shows. Trying new things. Being creative. Making mistakes. Trying again. Not to mention the 8 years prior to that at Boston College and then at the New England School of Photography and at MassArt learning the foundations of photography and the history of photography. I've always said it's a balance of technical and creative that makes photography great. That's a pretty long-winded way of saying I'm not staying up late at night reading photography tech blogs but please don't doubt for a second that I don't know my own gear inside and out. Each year I say I'm going to try and lighten the load this season, and then I learn something new I want to try and buy something and add it to my 'bag'. Actually it's grown to a few bags. This gear bag image below is my idea of traveling 'light' but I actually couldn't fit everything, like light stands, the tripod I was using to take the photo, the lens I was using to take the photo and probably a few other things I consider essential to make every wedding a success. But if you still have equipment or technical questions don't hesitate to ask when we chat.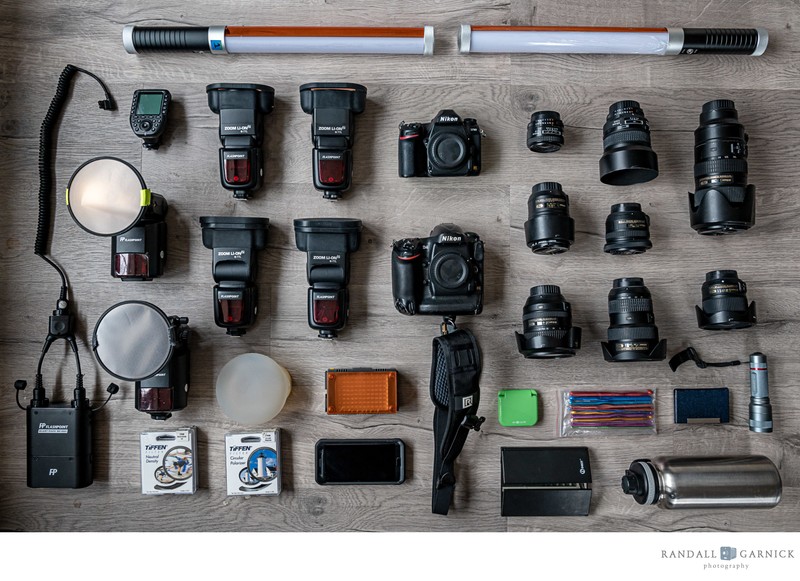 ---
SHOWROOM
**COVID-UPDATE** Obviously at this current time I am not able to host you in my home showroom but would love to meet face to face via Zoom, Google Meet, Skype or your preferred video software.
I would be happy to welcome you into my home showroom so you can see the full range of the experience I offer for your wedding. Canvas gallery wraps, large custom printed and framed photographs, metal prints and of course a wide array of heirloom custom albums. I live west of Boston, in Ashland, less than 10 minutes from the MA Pike. Meetings are by appointment only.