Martha's Vineyard Edgartown wedding sparkler exit
This Edgartown Yacht Club wedding on Martha's Vineyard was simply epic. Yes, I said epic and I don't use that very trendy word loosely. Look at the expression on Kim and Dan's faces during this end of the wedding sparkler exit. Still glowing and smiling like the moment they had their first look out on South Beach near Kim's parents house.

Being based in Metrowest MA, traveling anywhere in New England to photograph weddings is so easy. And any excuse to get to Martha's Vineyard is a good one. So when I first met with Kim and Dan I knew they were exactly my type of couple. Super in love, so kind, very low on the drama scale and they truly value the wedding photography that I offer. So it was a match. I shot their engagement photos in Boston at the Boston Public Gardens and got to know them better which always helps for the wedding day.

But back to their Martha's Vineyard wedding day. We had the first look at South Beach, the wedding ceremony at the beautiful and historic Edgartown Federated Church, then a parade like procession down Main Street the short walk to the Edgartown Yacht Club and lastly a boat ride to the Edgartown Reading Room for beach, dock and bridal party photos before heading back for the reception. We were all running around a bit crazy but in the best possible way!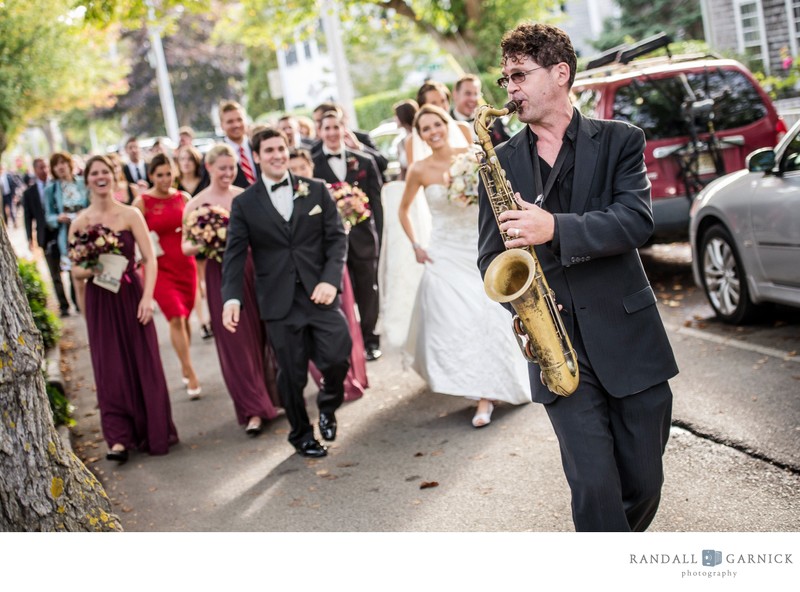 Top Martha's Vineyard Wedding Venues
I was lucky enough to be on Martha's Vineyard for another wedding a few shorts weeks before Kim and Dan's for one of their friends. And if you are ever on the island you should absolutely check out the Oak Bluffs East Chop Light House, it's a gorgeous spot and where the ceremony took place overlooking the ocean. For wedding photography, it's a bit of a dream as you can actually get into the lighthouse and up to the top. So I was able to create really unique wedding photos. The reception was at The Farm Neck Golf Course and again I can't sing their praises highly enough. The grounds and staff were both top notch and easily one of the best wedding venues on Martha's Vineyard.
Location: 1 Dock St #1309, Edgartown, MA 02539.